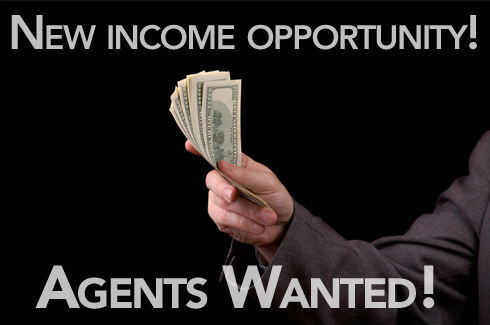 Agents Wanted!
Join the APS Agent Program!
Yes, you can become an independent agent for APS, and you will be part of the fastest growing service in the telecommunication phone industry, enjoying the support of APS's experienced agent team. No initial investment required, we will never take money from you!! What do you need to do, and what do you need to know? Read these few lines, and you will find some brief information about this business: if you want more detail please don't hesitate to call our agent info line at 1.866.338.4893
When you become an agent for APS, your task is to sign up customers; our task is to provide an excellent service and pay your commissions punctually: there is a lot of money to be made! The more customers you find, the more money you make in commissions: we will take care of the rest! You can get to a point where you can make money without even working, enjoying the so called "residual income"!
How can you make money?
Are you ready to make some money on your own? Are you ready to use your time for your own advantage? APS is offering you an opportunity to become an independent telecommunication agent. What does it mean? Well, this is an income opportunity that APS is offering to you, and it is a pretty unique one.
THERE ARE SO MANY OFFERS OUT THERE!
Yes, you may say, there are many job offers out there, and indeed there are some, but, they are not nearly as plentiful as you would think considering the amount of interest there is in working independently. They are also difficult to find. People seeking an income opportunity as an independent contractor need to spend a good deal of time searching for legitimate opportunities, as well as a significant amount of time weeding through scams. APS is here to offer you a REAL, TANGIBLE OPPORTUNITY: this is not a job, you don't need to work; or if you prefer you can work part time or full time: there is not any kind of commitment required. In your neighborhood, at the bar where you like to go, at the church, at the grocery shop you like the most: you are your own boss! Make more money using your spare time, or work full time around the clock! You don't need an office; all you need is yourself, and the people you know in your community. Any body can be interested in this opportunity!
Want to know more?
Please
call 1.866.338.4893
to inquire about APS's Agent program, or email
agent@utalkld.com.
SUCCESS IS POSSIBLE FOR ANYONE!
No matter where you live or whether you are a teacher, housewife, doctor, lawyer, accountant, secretary, policeman, fireman, nurse, salesman, IT specialist, programmer, construction worker, factory worker or any job or profession, you can join our large family of business consultants. Yes, because when you become an independent agent for APS you become a business consultant. All you need to do is to refer your relatives, friends, and friends of your friends to APS, and you will earn a COMMISSION that will grow proportionally with the number of people that will follow your suggestion. You will be able to track YOUR CUSTOMER BASE easily by accessing APS's website.
You will soon start receiving a CHECK in the mail with your commission, and even if small at the beginning, after few months it will grow to the point, for example, where it will pay for your phone bill: have you ever thought about eliminating your phone bill? And soon after eliminating your electric bill? And after that your gas bill, and so on ... This is only the beginning. Here at APS we have Agents who have been top producers for years, generating a large amount of business, and consequently making lots and lots of money: they are in fact making a living with that income!
If you are interested in this income opportunity please keep reading the details and if you need more information give us a call at
1.866.338.4893
, or email
agent@utalkld.com
.