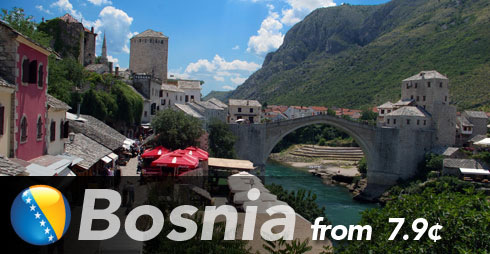 Welcome to Bosnia and Herzegovina
Bosnia and Herzegovina is a country in South-Eastern Europe, on the Balkan Peninsula. Bordered by Croatia to the north, west and south, Serbia to the east, and Montenegro to the southeast, Bosnia and Herzegovina (also: Bosnia-Herzegovina/Bosnia and Hercegovina) is almost landlocked, except for 26 kilometres (16 miles) of Adriatic Sea coastline, centered on the town of Neum.

The interior of the country is mountainous centrally and to the south, hilly in the northwest, and flatland in the northeast. Inland is the larger geographic region with a moderate continental climate, marked by hot summers and cold, snowy winters. The southern tip of the country has a Mediterranean climate and plane topography.
The country is home to three ethnic groups or so-called "constituent peoples", a term unique for Bosnia-Herzegovina. These are: Bosniaks, the largest population group of three, with Bosnian Serbs in second and Bosnian Croats in third. Regardless of ethnicity, a citizen of Bosnia and Herzegovina is often identified in English as either Herzegovinian or Bosnian. The term Herzegovinian and Bosnian is maintained as a regional rather than ethnic distinction, while Herzegovina has no precisely defined borders of its own. The country is politically decentralized and comprises two governing entities, the Federation of Bosnia and Herzegovina and Republika Srpska, with a third region, the Brčko District being administered by both.
Formerly one of the six federal units constituting the Socialist Federal Republic of Yugoslavia, Bosnia and Herzegovina gained its independence during the Yugoslav wars of the 1990s. Bosnia and Herzegovina can be described as a parliamentary democracy that is transforming its economy into a market-oriented system, and it is a potential candidate for membership in the European Union and has been a candidate for NATO membership since April 2010, when it received a Membership Action Plan at the summit in Tallinn. Additionally, the nation has been a member of the Council of Europe since 24 April 2002 and a founding member of the Mediterranean Union upon its establishment on 13 July 2008.
Demographics
Bosnia is home to three ethnic "constituent peoples": Bosniaks, Serbs and Croats. Tensions between the three constitutional peoples remain high and often provoke political disagreements. A Y-chromosome haplogroups study published in 2005 found that "three main groups of Bosnia-Herzegovina, in spite of some quantitative differences, share a large fraction of the same ancient gene pool distinctive for the Balkan area".
According to the 1991 census, Bosnia and Herzegovina had a population of 4,377,033. Ethnically, 1,902,956 (43%) were Muslim, 1,366,104 (31%) Serbs, and 760,852 (17%) Croats, with 242,682 (6%) Yugoslavs. The remaining 2% of the population – numbering 104,439 – consisted of various other ethnicities. 99% of the population spoke Serbo-Croatian. According to 2000 data from the CIA World Factbook, Bosnia's largest ethnic groups are Bosniaks (48%), Serbs (37.1%) and Croats (14.3%). There is a strong correlation between ethnic identity and religion in Bosnia and Herzegovina: Muslims constitute 45% of the population, Serb Orthodox 36%, Roman Catholics 15%, and other groups, including Jews and Protestants, 4%.
Cuisine
Bosnian cuisine uses many spices, in moderate quantities. Most dishes are light, as they are cooked in lots of water; the sauces are fully natural, consisting of little more than the natural juices of the vegetables in the dish. Typical ingredients include tomatoes, potatoes, onions, garlic, peppers, cucumbers, carrots, cabbage, mushrooms, spinach, zucchini, dried beans, fresh beans, plums, milk, paprika and cream called Pavlaka. Bosnian cuisine is balanced between Western and Eastern influences. As a result of the Ottoman administration for almost 500 years, Bosnian food is closely related to Turkish, Greek, and other former Ottoman and Mediterranean cuisines. However, because of years of Austrian rule, there are many influences from Central Europe. Typical meat dishes include primarily beef and lamb. Some local specialties are ćevapi, burek, dolma, sarma, pilaf, goulash, ajvar and a whole range of Eastern sweets. Local wines come from Herzegovina where the climate is suitable for growing grapes. Herzegovinian loza (similar to Italian Grappa but less sweet) is very popular. Plum (rakija) or apple (jabukovača) alcohol beverages are produced in the north. In the south, distilleries used to produce vast quantities of brandy and supply all of ex-Yugoslavian alcohol factories (brandy is the base of most alcoholic drinks).
Text:
wikipedia.org